- Prologue (feel free to skip this part):
Many of EE players got used to how do portals work in EE. Of course EE portals aren't ideal, have some bugs and have some problems like non seperate walls. EEU is an oppotrunity to change them, so our beloved developers changed them. For the first days of using new portals, it was quite strange. Portal having seperate walls, line collision on the center of the block, unability to go through portal from orthogonal direction etc... and this is the place where we are for now.
Portals might change, and it's almost centrain.
- How did i came up with the idea:
Looking for other platform games (and Portal from Valve) we can easily see that EE portals works very differently from them. In EE, portals are square blocks, where in other games it's usually a line and when EEU's solution isn't perfect it's better, but not ideal. Portals always should start at a wall and end on a wall.


On the first and second image i showed in 2 first cases 'how does EEU portal work'. Thier teleportation trigger is at the center of the block. It would be better, if the teleportation trigger would be on the edge (and sticked to the wall). In that way we created very common portal implementation named "wall portal". Wall portals are the most consistent type of portal, but it has some limitations, like you can only enter them from one direction, you can only go out of them in one direction and you can't place them in between the walls (second case on the images). In next point I'll try to prove that all of these limitations can be lifted.
- The idea of continous wall portal:
Normal (non-continous) wall portals can be entered only from one side, and leaved from one side.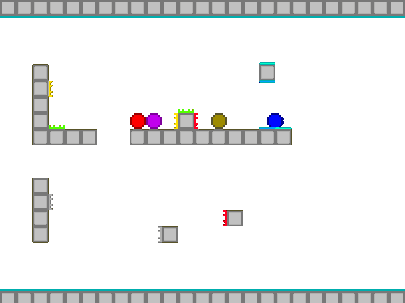 As you can see on the gif above, blue player, cannot enter these portals, because he doesn't align with any of the blocks. What about making it possible!?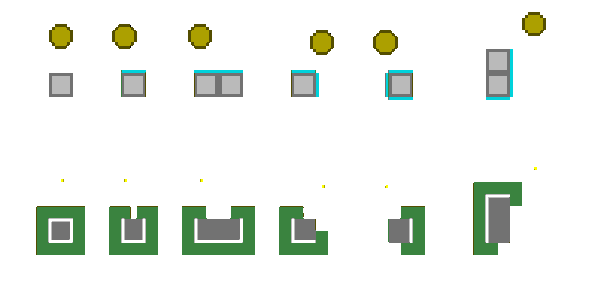 So these are input portals of continous wall portals. They gives player more slack of entering the portal, to maintain the direction when leaving the portal.
In the layer below, you can see the player's point representation.
There's much going on at the image.
Firts 2 cases works same as non-continous portals. third is preety logic, but the rest...
Wouldn't it be better, to break continouance of the portal at the corners of the block!? Maybe it feels quite unnatural, but some advantages come with this solution.
Imagine having a single block, covered by portals from al 4 sides. I think it would easily for this construction to pretend our beloved old EE portals.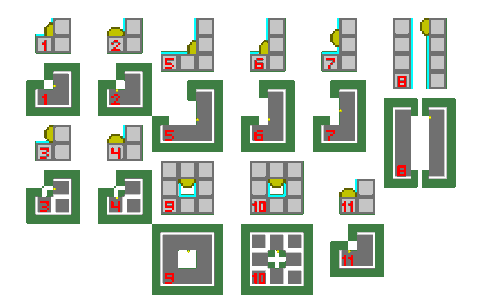 These are output portals. I gave here some variations of how does inner corner would work, case 10, 4 and 3 are non-continous portals representation.
With line portals it's possible to keep teleportation offset, (non possible with old EE portals)
- Could they replace current portals!?:
I think they could. I'm centrain that EE portals can be easily replaced by this version of wall portals (just cover the whole block with portals). Current portals would be harder to replace, cause they cannot be entered orthogonally. That makes the new portals very interesting, but impossible to replace fully with the wall portals.
Pros and cons of using these portals over current ones:
- inner corners and simmilar construction, would need thier own morph variation.
- possible problem to force the player to leave the portal
+ works well in walls, and cannot be used outside them (so it cannot work "bad" outside walls)
- Epilogue:
Feel free to say something, ask, criticize, change my mind, or come up with better idea (or improvement), and remember: edge > middle
---

Thanks to Nikko99 for signature
https: //media.discordapp.net/attachments/402174325349941249/482121641745186816/KHiX2DEFewAAAABJRU5ErkJggg.png
https: //i.imgur.com/YFtzyXA.png