I've been working on this level for a while. It's supposed to be a reimagining of Everybody Edit's formerly common genre of Humans vs Zombies worlds. I noticed how almost all of them are bright, colorful, linear, and very simple. I'm not a good builder by any stretch of the imagination, but I wanted to create something that threw all of these out the window. Because of that, I started on this level that uses a Cyberpunk inspiration (I've had the idea & started before Cyberpunk 2077's E3 showcase, but the Cyberpunk Genre definitely inspired the world heavily). Because I have almost no experience in level creation beside stupid, grindy binary counters, some unfinished platformers, and **** humans vs Zombies worlds, I just wanted to list my ideas for some feedback.
It is supposed to be a true world with a story behind it, told mostly by NPCs. Beside hints, they don't have much value beyond just expanding the story. I do intend for their knowledge to help you get to certain areas. Humans and zombies will spawn in random areas, and zombies will be able to jump as high as humans, and there will be jump boosts around for humans turned. Beside that, there will be no jump boosts. The boosts will be teams. You can get augmentations that allow you to enter different areas. You can also get a permanent speed boost if you've gathered enough coins. You can also get better clothes that allow you to enter different areas that only people in the higher class can enter. That being said, there will not be many boosts, and you will not be able to choose these teams at spawn. You must go to shops scattered around the map. Camping will not be easy because there are multiple paths, and 'building hopping' is very easy to do instead of getting around on the streets. There will be NPCs and building everywhere, though not all can be entered. The only ones that can be entered have a purpose, housing shops or hiding sots. Hiding spots are little, hidden areas that you find by looking for inside buildings. Checking under a desk finds you a hiding spot under a desk. You can then exit somewhere else. That being said, you no longer know if your area is safe. These are just a few concepts I've started implementing. I guess I just want opinions on if it will work out well with the information I've given and any building or gameplay tips. It isn't remarkable, but here is what I've done: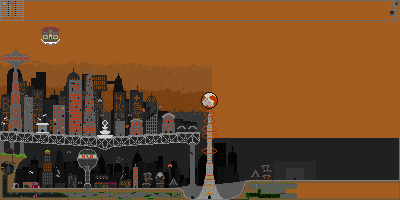 Updated image to the Minimap Viewer API
Even with the work I've put into it, it is nowhere near done, so keep that in mind.